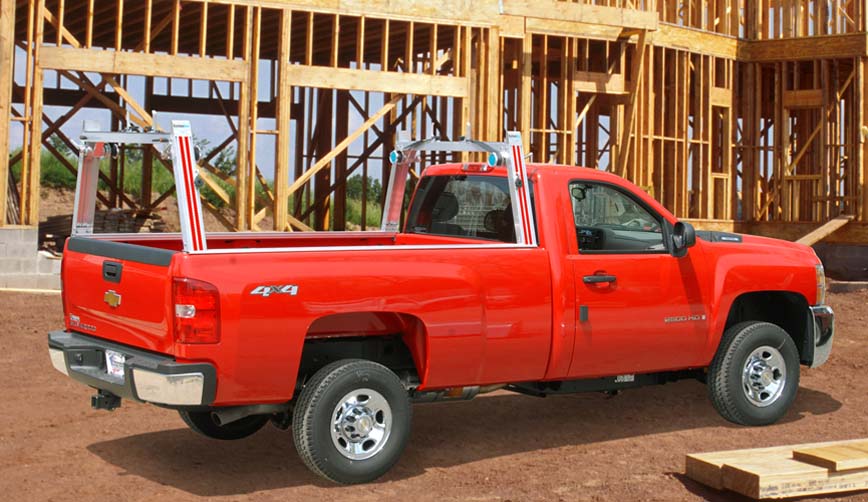 Utility Rigs® for Pick-up Trucks
System One's® Utility Rig® for pick-up trucks is a highly versatile and economical ladder rack. Its extremely rigid free-standing trusses have a 600 lb. working load capacity and allow easy loading and unloading of equipment and material. Furthermore, the rear truss is completely removable in seconds for full unrestricted access to the cargo area. The front truss is also just as easy to remove, leaving the Pick-up Traks® on the bedrail to serve as a cargo restraint system and bed rail protector. The Utility Rig includes Ladder Life® anti-wear inserts for ladder protection, Ladder Glide® low friction insert for easy loading and unloading, side stops on all four upper corners, and color inserts to match the truck.
Utility Rigs® are divided into the Heavy I.T.S. Series or the Standard Series:
Heavy I.T.S.® Series Utility Rig® for Pick-ups
The Heavy Work I.T.S.® series Utility Rig® provides all the same benefits of the standard Utility Rig® and more. The I.T.S.® gussets allow top-side or low-side tool boxes to be mounted using tool box hangers as well as allowing for the installation of our Work Winch® tie-down system. Work Winches® make securing items such as ladders and other cargo a simple operation.
Standard Series Utility Rig® for Pick-ups
Our standard Utility Rig® is ideal for those who need a sport/utility function. Simple and versatile this truck rack has many features needed by contractors, yet it can be broken down in seconds and the trusses can be placed in the bed of the truck or hung on a garage wall. Whether carrying ladders or a canoe, the Ladder Life® and Ladder Glide® inserts in the crossmembers are a great feature for all users. Although the standard series racks will not accept the Work Winch® tie-down system, they will accept our Ratchet tie-downs. Ratchet tie-downs are not quite as heavy duty or as easy to use as Work Winches, but they are many times better than ropes or bungees.