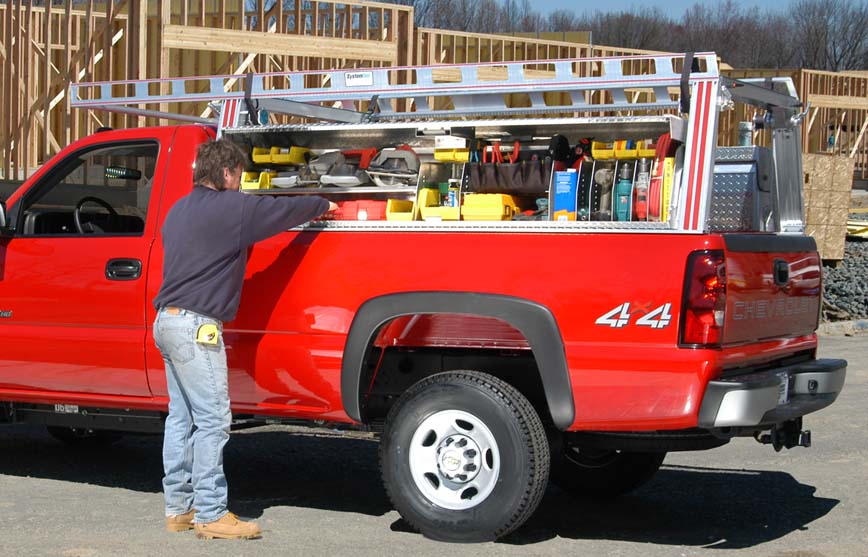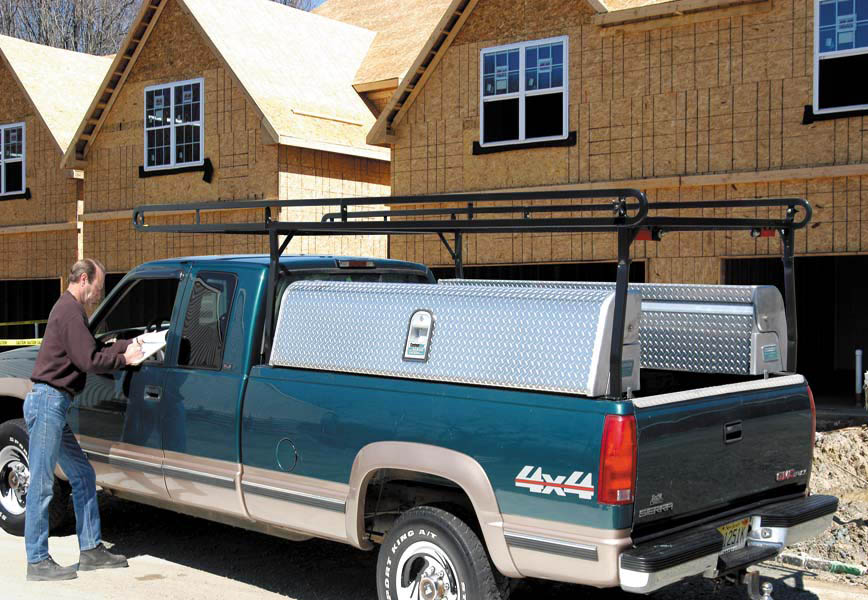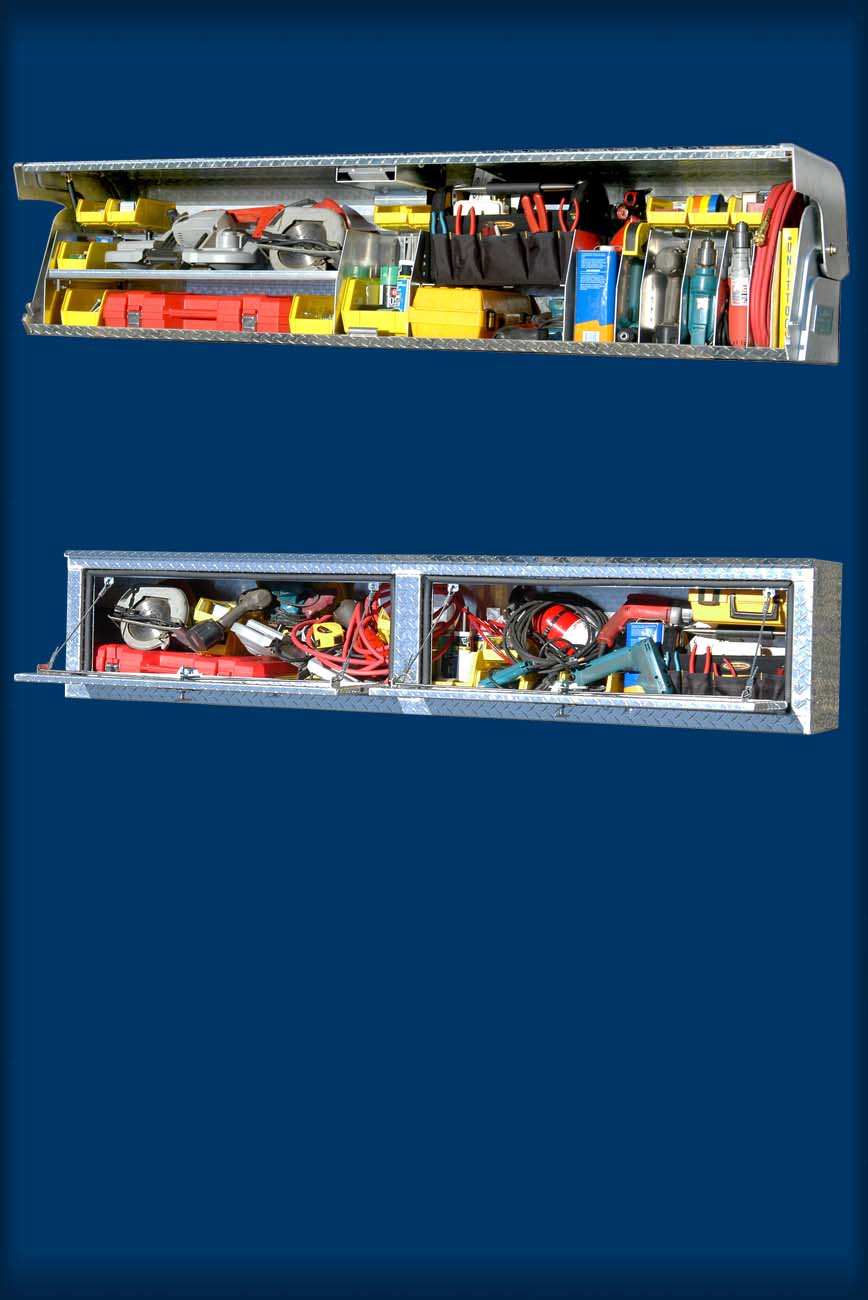 The FullAccess® Advantage
Conventional Truck Tool Boxes - Disorganized and Inefficient
Conventional truck tool boxes, like the one above, have very limited access. They may provide volume but they suffer from accessibility problems. In the real, working world, tools get piled on top of other tools and cords become wrapped around each other – it's a common sight. Small items are quickly lost somewhere in the bottom of the truck box amid all the clutter. Add to that the limited accessibility resulting from a small door opening and you have a truck tool box that is frustrating and hard to work out of. Worst of all, is trying to get the item you want out of the truck box, especially if it has a cord, without dragging everything else out in the process.
We are proud of the engineering of our truck tool boxes and encourage you to examine all the details and features built into them. So, before you spend your money on any truck box , please explore our website and have a good look at Full Access® truck tool boxes.
FullAccess® Truck Tool Box - Organized and Efficient
Full Access® truck tool boxes provide 100% access to the tool box interior, ensuring maximum efficiency through organization.
Set up your truck once - and set it up right
When you work out of a truck you put your shop on the road. You have very little space for tools, materials and equipment, so the space available to you should be organized as efficiently as possible. Frequently, power tools sustain costly damage during transport while piled on top of each other in conventional boxes. Dividers, shelves and bins allow you to transport your tools without damage. You can customize your tool box so your truck becomes an organized and efficient work vehicle-laid out the way you want-for the tools you carry and the way you work. Full Access® Tool Boxes can be used on any truck with any rack, or on trucks without racks.
Organize for Efficiency
Full Access® Toolboxes are designed for System One® ladder racks but they are easily installed with any rack. They are made in many different lengths to accommodate all pick-up truck bed lengths. When mounting these boxes on System One® ladder racks, no drilling into the truck or rack is necessary. The outer edge of the toolbox has pre-punched mounting holes and is bolted directly to the T-slot in the System One® Pick-up Trak® with the provided carriage bolts. The inner portion is suspended using a tool box hanger attached to the gusset of the rack. This arrangement eliminates the need for support legs attached to the floor of the truck bed and provides a completely clear, unobstructed floor area. This is especially important when transporting plywood and sheet rock.
Full Access® truck tool boxes provide complete accessibility to an interior that offers unique storage and organization options. Organization means efficiency and efficiency means money, and that's especially true in today's competitive business environment. With .100" bright aluminum tread plate, 3/16" (.188") cast aluminum ends, and 3/4" stainless steel pivot pins set in bronze bearings, Full Access® truck toolboxes are the toughest and heaviest aluminum truck boxes made anywhere. The design of a Full Access® tool box gives you total access to the interior. Having a tool compartment with full accessibility opens up a world of versatility, organization and efficiency. Tall vertical aluminum dividers are available for our Full Access® tool boxes. Instead of piling tools on top of each other, they are stored side by side in separate, fully accessible compartments, cords and all. Shelves are available and can be positioned at seven different levels. And, at last, plastic polypropylene bins (the standard in organization of small parts for all industries) can be configured in three completely accessible tiers inside the box. There's even a small, full length built in tray in the upper rear of the tool box for pencils, pens, drill and screw driver bits – the small items that invariably disappear under the heap of tools in conventional boxes. This truck tool box has been well designed and is made to work for you.